-advertisement-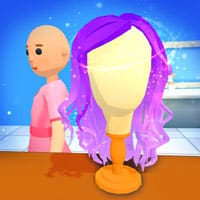 Wig Master
From
: September-9th-2020
Google Play Developer
:
Lightning Strike Games
Apple Store Developer
:
Gameguru
Tags
:
Fashion Games
,
IOS Games
,
Android Games
,
Shop Games
,
Management Games
,
Simulation Games
,
3D Games
,
Girl Games
,
Design Games
Game highlights
1. The wig shop simulates business.
2. Various trendy wig hairstyles.
3. Design as you want.
Gameplay
Custom-made wigs for them according to the requirements of the guests. From hairstyle to hair color to care, we can satisfy our customers.
Game features
1. Novel hair styling principles.
2. Meet the requirements of guests.
3. Easy and fun game.
Editor's recommendation:
Wig Master is a fun wig shop simulation game. In the game, you can not only experience the fun of operating a game, but also experience how to make a variety of fashionable wigs. Ready to become a wig master! How about making colorful wigs for each other? There are many colorful wigs to reveal! Let's experience this addictive game with beautiful and colorful graphics!