-advertisement-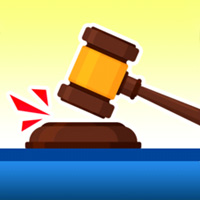 Guilty!
From
: August-10th-2020
Google Play Developer
:
27Lab
Apple Store Developer
:
Vincent Hart de Keating
Tags
:
Casual Games
,
IOS Games
,
Android Games
,
Weapon Games
,
Simulation Games
,
Police Games
,
Educational Games
,
Kids Games
Game highlights
1. A game that simulates the judge's decision.
2. All kinds of unexpected crimes emerge in endlessly.
3. Promote justice and punish evil.
Gameplay
According to the instructions on the court documents, judge whether the suspect before him meets the criminal conditions. If it is, he is sentenced to guilt; if not, he is acquitted. Be sure to observe carefully, because your decision will affect a person's fate.
Game features
1. There are traceable investigation directions and logical judgment standards.
2. A variety of criminal acts, large and small cases.
Editor's recommendation:
Guilty! is a fun simulation game for judges. As a judge, you have to determine whether a person is guilty or not based on evidence. This is a sacred job, and every decision you make will affect the life of this person and even more. Therefore, every decision must be made rationally based on evidence before making a decision. Come and experience it!