-advertisement-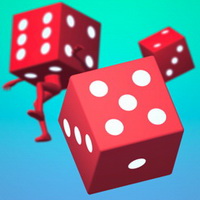 Play Online
Dice Gang
From
: June-11th-2020
Apple Store Developer
:
Voodoo
Tags
:
Multiplayer Games
,
IOS Games
,
Arcade Games
,
Dice Games
,
Kids Games
,
Collect Games
Dice Gang game is a novel game with a novel gameplay. In the game you are just a dice. The map is very vast. Only the dice thrown to meet the required number can go to the next level. There are all kinds of challenges to complete the heavy levels. The test, the successful completion of the task, the new and upgraded challenge system, see where you can go.
Game features:
1. Manually pass the level mode, only after completing the task can you enter the next level, and complete the competition with other dice;
2. The cartoon-style game screen, choose your own color to complete the confrontation with other dice, it is more powerful than seeing who;
3. The number of each dice is different, keep rolling or shaking to ensure that your number is larger than the other side.
Game highlights:
1. Brand-new upgraded PK system, a big competition on numbers, can smoothly complete all operations;
2. Fun challenge mode, see how many levels you can reach, more interesting challenges look forward to your joining;
3. Voodoo's new game is online, can you turn all the opponent's dice into your own, a game that requires brainpower to win.
Editor recommends:
It looks very simple, and it is difficult to get started. Every level takes a certain amount of time.
Eliminate all opponents smoothly and defeat them in the mission to change the color of the dice