-advertisement-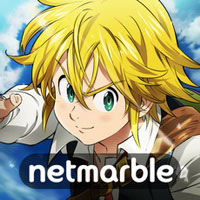 The Seven Deadly Sins
From
: March-2nd-2020
Apple Store Developer
:
Netmarble Corporation
Tags
:
Action Games
,
Real-Time Games
,
Arena Games
,
Multiplayer Games
,
IOS Games
,
Battle Games
,
3D Games
,
Fantasy Games
,
Combat Games
,
Arcade Games
,
Adventure Games
,
Skill Games
Were you ready to enjoy exciting combat, fantastic graphics and a riveting story that's true to the originals? Download the amazing cinematic anime game, The Seven Deadly Sins: Grand Cross, right now!
The Seven Deadly Sins: Grand Cross Game Features:
A brand-new turn-based RPG! A novel approach to combat! A strategic combat system utilizing skill synthesis.
Skills with the same level of star move to a higher rank when they are next to one another! Feel the thrill of fighting in the complex combat system at every turn. Combine and use cards to cause an 'Absolute Pass' to decimate your opponents! Build your own plan by incorporating the unique abilities of characters from The Seven Deadly Sins.
Cooperate with friends to take down a giant demon in Death Match mode, and enjoy exciting and diverse PvP content.
Enjoy Death Match, played in real-time with 2-player cooperative games! Defeat the demons with a pal to protect the realm until time expires! An Arena awaits you in which you can compete with players around the world. Choose your own win-win plan!
Build your very own team in The Seven Deadly Sins
The Heroes of Seven Deadly Sins unite! Dress up the characters in costumes that are exclusive and never before seen! Hairstyles and accessories to suit your styling requirements! Check out the new look of characters from The Seven Deadly Sins!
The original world recreated in detail - the animated story beautifully reborn!
The continent of Britannia has come to life! The Holy War that ended 3,000 years ago begins anew. Experience high-resolution 3D animated cutscenes and prepare for the Holy War alongside the characters of The Seven Deadly Sins.
Characters rendered in AR, and various other easter eggs await you!