-advertisement-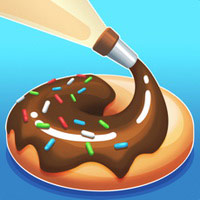 Bake it
From
: April-26th-2020
Apple Store Developer
:
Kwalee
Tags
:
IOS Games
,
Food Games
,
Cooking Games
,
Simulation Games
,
Kids Games
,
Skill Games
,
Matching Games
Bake it is a challenging restful food game. Baking as a profession is also a hobby of many people. This game is such a healing and fun-filled process. Use your own talents to experience the fun of baking, Make all the people want the joy and excitement that can't stop, make all kinds of delicious desserts and tempting donuts, the guests love these, the friends who like this game download it quickly.
Bake it Game Features:
There are so many donut flavors, try to make all kinds of donuts so that guests can leave with satisfaction.
The color scheme of the game screen is very small and fresh, and it is very comfortable to watch. This is also visual enjoyment.
To make delicious desserts, not only will guests leave with satisfaction, but players will also be satisfied.
The game is a wonderful and interesting process. Making the whole donut yourself is really fun and exciting, the difficulty is not very great.