-advertisement-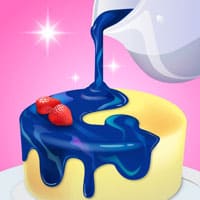 mirror cakes
From
: October-25th-2020
Apple Store Developer
:
Akatsuki Inc.
Tags
:
Kitchen Games
,
IOS Games
,
Food Games
,
Cooking Games
,
Simulation Games
,
3D Games
,
Kids Games
,
Girl Games
,
Design Games
Game highlights
1. Tons of mouth-watering cake recipes to make for you and your friends!
2. Decorate your cakes with yummy frosting, delicious decorations & adorable toppers!
3. Make your own mirror glaze cake.
Gameplay
Learn how to bake the most delicious mirror cakes EVER! Use professional baking tools to bake, design & decorate the most delicious cakes!Have a cake party with your fuzzy bunny, kitty and puppy friends, cute babies, and more!
Game features
1. Make the party extra festive with your very own party decorations!
2. It's princess party time! Put your favorite princess on a cake!
3. Tons of adorable and fun coloring pages for you to draw in!
Editor's recommendation:
Be the best cake baker the world has ever seen! What's your favorite type of cake? Sweet birthday cakes? Fancy wedding cakes? Whatever it is, you can make it! Decorate your cakes to make them extra beautiful, and take photos so you can show your friends your yummy creations! You can even enter your cakes in a contest and serve them to your friends at the cake party!