-advertisement-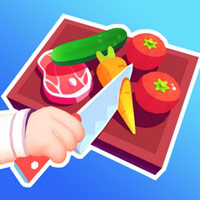 The Cook
From
: April-9th-2020
Google Play Developer
:
SayGames
Apple Store Developer
:
SayGames
Tags
:
Casual Games
,
IOS Games
,
Android Games
,
Food Games
,
Cooking Games
,
Simulation Games
,
Arcade Games
The Cook is a simulated business game. Players need to make a variety of foods to enter the game to satisfy their customers, continuously upgrade their levels and unlock more recipes. The overall game operation is simple, just click on the screen. They can make their own dishes. There are also fruit drinks, etc., to stimulate your imagination, you can also add more ingredients to different recipes to change the taste.
The Cook Game Features:
As a qualified chef, you need to satisfy your customers, cook according to customer requirements, and provide the corresponding cuisine.
The fire is very important. Every time you cook, there is an indicator. When the pointer is in the middle, it means perfect.
Easily slide your fingers to cut vegetables, and fill the pot or juicer, it is up to you to decide the final product.
Make full use of the fragmented time to play, and it will not occupy your normal work and study time, play easily and without any pressure.
A lot of content is provided for free, fun and easy entertainment, suitable for players of all ages, the operation is very simple.
Exercise the player's responsiveness and hands-on ability, correctly recognize the ingredients, pick out what the guest needs, and then start cooking.
As the game continues to progress, you will see a lot of foods you have never heard of before, and they are easy to make and can be released in minutes.
Imagine you have a food truck of your own, what would you do? Travel across the world! Discover new recipes! Make dishes you never heard of before! Get your every single customer happy! And of course, have lots of fun!