-advertisement-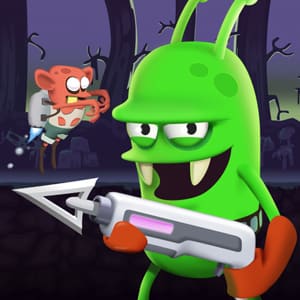 Play Online
Zombie Catchers : Hunt & sell
From
: October-26th-2023
Google Play Developer
:
Deca Games
Apple Store Developer
:
Two Men and a Dog
Tags
:
Casual Games
,
IOS Games
,
Android Games
,
Battle Games
,
Zombie Games
,
Food Games
,
Weapon Games
,
Alien Games
,
HTML5 Games
,
Kids Games
,
Shooting Games
Game highlights

1. Hunt down zombies with your trusty harpoon gun and sneaky traps!
2. Unlock exciting new hunting gadgets.
3. Dispatch your army of drones around the world to find awesome zombies to catch!
Gameplay
Tap to play.
Game features
1. Discover new territories on the map and find unique zombies to collect and squeeze into lucrative food products!
2. Lure out special boss zombies and capture them with your harpoon from your flying ship!
3. Develop your skill and do perfect catches to climb the hunting ranks to get more plutonium and exclusive costumes for your character!
Editor's recommendation:
Zombie Catchers is a casual action-adventure game in a futuristic world riddled with a zombie invasion! Planet Earth is infested with the undead. But we're in luck! A.J. and Bud, two intergalactic businessmen, have decided to build a business empire! They plan to hunt all the zombies and make Earth safe once more - while also making a handsome profit selling Zombie Juice. Walk through the undead wasteland where not even plants can survive, sipping on delicious Zombie shakes between one hunt and the next. So what are you waiting for? Don't idle around. Choose your weapons and traps & upgrade your character to hunt and capture juicy zombies, take them to your secret underground lab, and... profit!