-advertisement-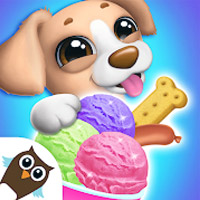 Play Online
Swirly Icy Pops - Surprise DIY Ice Cream Shop
From
: May-5th-2022
Google Play Developer
:
TutoTOONS
Tags
:
Casual Games
,
Ice Cream Games
,
Android Games
,
Shop Games
,
Educational Games
,
Kids Games
,
Animal Games
,
Cute Games
,
Role Playing Games
,
Girl Games
,
Make up Games
Game highlights
1. Soothing music and cute animals.
2. Plenty of ice cream varieties and a variety of combinations.
3. Help the joy of animals.
Gameplay
Players need to tap to choose and make up ice cream.
Game features
1. Lots of animals and a wide variety of ice creams
2. Decorate the ice cream truck!
3. Dress up Blush the Bunny in fun outfits!
Editor's recommendation:
Summer is coming. On a hot day, who doesn't want a cool sip of ice cream? In this game, we will drive an ice cream truck in the pet city with the bunny to provide all kinds of ice cream to the animals. Let's make the craziest ice cream for your furry bunny friends! Music with cute pictures and the satisfaction of animals can also bring us satisfaction in summer. Why not give this game a try? Bring a different kind of coolness to this hot summer!