-advertisement-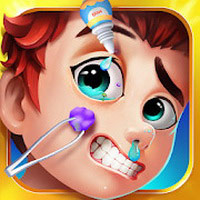 Play Online
Eye Doctor – Hospital Game
From
: January-2nd-2020
Google Play Developer
:
Game Stars
Tags
:
Casual Games
,
Mission Games
,
Android Games
,
Arcade Games
,
Kids Games
,
Role Playing Games
Eye Doctor – Hospital Game will take you on a fun-filled doctor adventure. Become a professional ophthalmologist to help children deal with various eye problems. Treats a variety of eye diseases to make children more comfortable and healthier. Hurry up, kids are waiting for you! Vision is one of the most important human senses, so it helps children heal their eyes, perform many different eye exams, and test their vision or check for color blindness. Let your patients feel warm and take care of them with different special medical tools, just like real doctors.
Eye Doctor – Hospital Game Features:
• Vision check: Use a letter-based vision checklist to measure whether children can see well from a distance. Find the best diopter for your little patient and choose some stylish colored lenses or glasses.
• Color blindness: The Ishihara color board can help you diagnose color blindness. After that, you must choose the correct shade of fruit color and click to connect the broken line.
• Ophthalmology: Use a microscope to find foreign objects in your child's eyes. Use a laser to remove the yellow tadpoles from your eyes, use tweezers to remove small bugs, and use eye drops to treat the red eyes that are inflamed. After you have successfully completed the treatment, choose an eye patch for the little boy or girl.
• Eye Exam: Play 3 fun mini games to test and improve your vision. See if you have the ability to see the details by pointing out what is wrong and what needs to be corrected. Throw the paper ball into the trash bin exactly, or find all the differences in the 2 pictures. Welcome to the colorful eye clinic where you can have fun!
• Educational and role-playing games for children
• Practice like a real doctor
• Special real medical tools
• Win stars and enjoy fun activities
• Fun and popular mini games