-advertisement-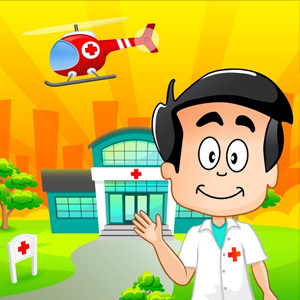 Play Online
Doctor Kids
From
: December-25th-2019
Google Play Developer
:
Bubadu
Tags
:
Casual Games
,
Android Games
,
Kids Games
,
Role Playing Games
,
Girl Games
You can see what it is like to be a doctor and treat children in a children's hospital with the help of this video. Once, you will get them happy and put a smile on their faces.
Children come to the clinic and need your help to improve. Once you go to the right doctor's office to assign the little patients, you can have fun playing immersive minigames and treating children in no time.
Game features various types of doctors and procedures, with many colorful items to match the characteristics of patients. Includes a special minigame for every doctor's office to make treatment even more enjoyable. And don't forget about the always in a rush emergency vehicle.
Within this game, you can do the following:
Have your patients cleaned and repaired their broken teeth to the dentist.
Diagnoses people with rare illnesses to cure them.
Allow an eye test to enhance the eyesight of children.
Use a microscope to run certain laboratory tests and kill viruses.
To check bones, use the X-ray system.
Drive an emergency car and provide patients with first aid.
In the Xylophone minigame, treat an ear infection and take a hearing test.
Doctor Kids game features:
• Beautiful high-quality HD graphics
• intuitive, user-friendly interface
• limitless gameplay with various variations
• several different patients in different clothes
• Offers 7 separate doctor's offices: dental care, eye examination, skin rash diagnosis, laboratory and X-ray testing, ear doctor, emergency room ambulance (ER specialist)
• Contains 7 themed minigames
• Tons of colorful plasters, bandages, bracelets, glasses and flavors of syrup.