-advertisement-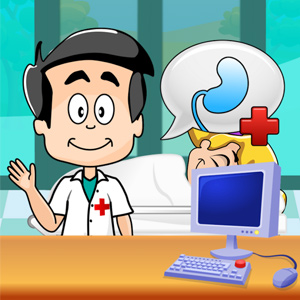 Play Online
Doctor Kids 2
From
: September-14th-2020
Google Play Developer
:
FM by Bubadu
Tags
:
Casual Games
,
Android Games
,
Simulation Games
,
3D Games
,
Educational Games
,
Kids Games
,
Role Playing Games
Game highlights
1. Colorful and vibrant cartoon graphics!
2. 6 thematic minigames!
3. Use a breathing machine, kill the bacteria in Archer minigame and choose an inhaler to open up the airways.
Gameplay
Check the respiratory system, fix sore throat problems, get rid of head lice, heal digestive problems, use a head MRI scan or fly an emergency helicopter. Use your medical skills and spread a bit of happiness to your sick little patients.
Game features
1. Fly an emergency helicopter and save kids from burning skyscrapers.
2. Scan a head, solve a brain puzzle and choose one of the bandages.
3. Find head lice with the help of a magnifying glass, get rid of them and choose a super shampoo for anti-lice treatment.
Editor's recommendation:
The game includes tasks comparable to real life events although adjustments were made due to the audience and limitations of mobile environment. Therefore, the knowledge acquired by playing the game cannot be used in real life. Seize the opportunity to see what is like to be a multi-tasking doctor in this fun game. Kids are already waiting for your help! It's up to you to heal them!