-advertisement-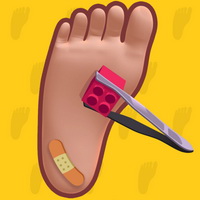 Play Online
Doctor Care!
From
: July-5th-2020
Apple Store Developer
:
Ruby Game Studio
Tags
:
Casual Games
,
IOS Games
,
Simulation Games
,
Kids Games
Doctor Care! is a game with a heavy taste. In the game, players use various tools to pedicure. This is a highly technical game. Improve your technology, shops, and props to make your business better and better. Very decompressing A small game for your favorite players to download together!
Gameplay
1. Players need to find various tools in the room to repair the whole smelly foot step by step.
2. Eventually get high points rewards, these rewards will help you complete the next step.
3. There is a bit of horror on the whole, but the more you play, the more passionate you are, I believe you will not be disappointed!
Game features
1. Repairing the toes is a very difficult task, which requires the player to spend a lot of effort to complete.
2. Many different problems need to be solved by the player, you have to solve the problem on the customer's feet.
3. There are many tools that require you to use them skillfully, otherwise it is absolutely impossible.
Game highlights
1. You can paint their toenails with their favorite colors according to the needs of customers.
2. For those cases where the foot skin is worn, this requires some special treatment.
3. The whole process requires your patience to complete and maintain your concentration.