-advertisement-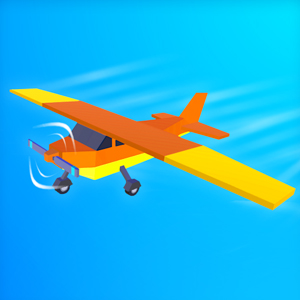 Play Online
Crash Landing 3D
From
: June-5th-2020
Google Play Developer
:
Voodoo
Apple Store Developer
:
Voodoo
Tags
:
Airplane Games
,
IOS Games
,
Android Games
,
3D Games
,
Flying Games
,
Kids Games
,
Skill Games
,
Collect Games
Crash Landing 3D is a very fun casual puzzle game. The game is built with a 3D engine. When players play the game, the game map will slowly change. There are many levels in the game waiting for you to challenge. There are a variety of magical props to help players to pass through
Game introduction
Crash Landing 3D game is a casual mobile game newly launched by the well-known manufacturer-Voodoo in the beginning of the year. It is still a consistent simple style, coupled with unique content settings, so that all players here are beyond imagination. To experience, you need to control the cartoon plane to make it land smoothly, get the perfect score performance as much as possible, and unlock the title of glory.
Game features
1. The airplane needs to ensure the flying height in the sky. When the system indicates that the task occurs, it should be completed as required.
2. You can unlock the full-featured skin of the aircraft, and there are a variety of props to make the game experience bursting.
3. The choice of landing location is the key to whether you can land successfully. When you reach the most critical point, you must not relax.
Gameplay
The theme scene in the game will change with the content of the level, from the high mountains to the ice and snow, from the lava peaks
Going to the endless stretch of Gobi Desert will not make players feel bored.
When the plane does not land safely, you must concentrate on it, otherwise you will be at a loss when there is an accident. After all, the details determine the success or failure!
Editor recommended
An absolutely super fun game, don't miss it!