-advertisement-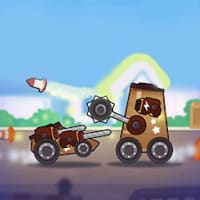 Play Online
Tiny Crash Fighters
From
: September-17th-2023
Google Play Developer
:
IndexIncrease
Tags
:
Car Games
,
Avoid Games
,
Crash Games
,
Attack Games
,
Android Games
,
Strategy Games
,
Battle Games
,
Weapon Games
,
Fighting Games
,
HTML5 Games
,
Kids Games
,
Skill Games
Game highlights

1. Build your ultimate machine.
2. Unlock special parts.
3. Fast-paced action.
Gameplay
Tap to play.
Game features
1. Start by choosing your favorite fighter, wheels, and weapons. Mix and match different parts to create a unique and powerful machine.
2. Experience thrilling and fast-paced action as you crash, collide, and battle against opponents. React quickly, strategize, and outmaneuver your rivals to claim victory.
3. Earn coins by winning battles and completing challenges. Use these coins to unlock special parts and enhance your machine's performance.
Editor's recommendation:
Welcome to Tiny Crash Fighters, a fast-paced action game where you can build your ultimate machine to battle against the CPU or challenge all your friends! Choose your favorite fighter, wheels, and weapons, and conquer the arena to become the top player. With over 30 vehicle parts to choose from, you can build your own robot vehicle and unleash the power of the machine! Earn coins and unlock more special parts like drills, saws, missiles, turbos, or machine guns, and never lose a battle. Are you ready to crash and conquer?