-advertisement-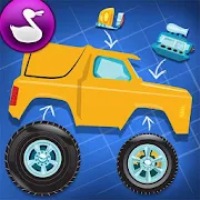 Play Online
Build A Truck -Duck Duck Moose
From
: May-11th-2022
Google Play Developer
:
Duck Duck Moose, LLC
Apple Store Developer
:
Duck Duck Moose, LLC
Tags
:
Car Games
,
Time Games
,
IOS Games
,
Android Games
,
Monster Truck Games
,
Kids Games
,
Collect Games
,
Make up Games
,
Design Games
,
Coloring Games
Game highlights
1. You can build your own truck.
2. Every choice you make will have an impact on the truck's performance.
3. Very rich tracks and props to test the performance of your truck.
Gameplay
Players need to design their own trucks and drive them across the road.
Game features
1. Factory: choose body, paint, decals, wheels, engine, and exhaust! Come try dragon wings, sirens, propeller covers, and more on your truck
2. Garage: Start collecting cars in the garage and get medals
3. Racing: Drive your truck through snow, jungle, sewers, and ever-changing surprise tracks for unlimited play
Editor's recommendation:
Build A Truck - Duck Duck Moose is not only a very fun truck design game but also a very fun car driving game! You can design and build your truck and add various functions to it! Finally, you can drive it around various tracks! Listening to the roar of the engine brings different comfort! Try this game now!