-advertisement-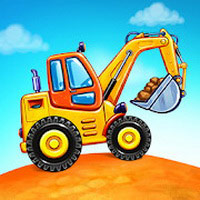 Play Online
Truck games for kids - build a house car wash
From
: February-20th-2020
Google Play Developer
:
GoKids!
Tags
:
Puzzle Games
,
Car Games
,
Android Games
,
Building Games
,
Simulation Games
,
Monster Truck Games
,
Educational Games
,
Kids Games
,
Girl Games
It's very fun interactive game for games for kids kindergarten. Such games are free not only for boys games but also for girls games. If your kids love cars and trucks or anything related to construction themed games, they're going to be crazy about this awesome game tractor games for kids, trucks for kids! Go through all the engrossing game levels and get your house, swimming pool and arbor completed in the finish of one of the best children's building games!
RIDE and CONSTRUCT your very own construction games transport right now is pretty easy! Create fun vehicles with just a few touches and build a house and pool. You have to build your own transportation first, then fill it with gas on the kids ' gas station trucks, and go to the kids ' car games site building house where you can build your dream home! When free kids games have to wash your transport truck game in the car wash going from level to level you'll know how to build a house and soon your dream house will be finished!
Here you can find a lot of different types of cars, lori free puzzle games for boys on how to build a house and play with! Here children's trucks are a short list of them: digging machine, tipper, crane, drilling machine, pile driver, boys concrete mixer car games and much more for construction play! Teach your child the fundamentals of vehicle mechanics! All the games of transport tractor lori in the free puzzle games for kids are just like in real life!
Truck games for kids Game Features:
CAR WASH!
After hours of house building your truck got dirty? No problem... No problem! Go to car wash, scrub it with bubbles free kids games, roll a car games to build a house free of charge with soft brushes learning trucks for kids build house, clean it with water and dry it off so your car can shine clean! It's really fun for free kids games free to play for children 3 years free in car wash games!
GAS STATION!
Is your truck fuel low? No matter, because at the gas station, you can fuel your transport truck games for kids. Find where to connect nose fuel trucks for children's games for boys games first! This teaches the attentiveness learning games for children through truck playing. Press the button, and watch the fuel level of your car increase!
If you're an adult and busy, with this build house game built construction vehicles, you can simply give your learning games baby games for boys house building smartphone or tablet, your kid will be busy with that for hours of fun! Yet your baby will not only be excited about tractor games for kids, but will also learn some things for children 3 years old in game!
Voice-over: 10 different voice-over done professionally, including: English, German, Spanish, Russian, Turkish, Portuguese, Arabic, Chinese and Hindi! Games are beautiful and vivid car games for kids, our designers have worked hard on kids truck games! We always worried about child safety cars, so it's not going to be that easy for your child to buy something in the game, while you're not looking after him.
The game will be great for children's 3 year free children's games, children's 3 year old game, children's car games, children's 3 year old games, if he likes tractor games, vehicle sounds, house building games, car puzzles, and construction games.
We also suggest that you watch some other children's games for the boys we made, they're not less enjoyable than that!