-advertisement-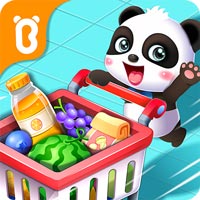 Play Online
Baby Panda's Supermarket
From
: September-29th-2020
Google Play Developer
:
BabyBus
Apple Store Developer
:
Zhi Yong Information Co.,Ltd.
Tags
:
IOS Games
,
Android Games
,
Food Games
,
Shop Games
,
Simulation Games
,
Educational Games
,
Kids Games
,
Animal Games
,
Cute Games
,
Girl Games
Game highlights
1. More than 10 supermarket shopping zones for you to explore!
2. More than 100 common commodities to choose: Snacks, drinks, funny toys, useful commodities, outfits and more!
3. Use a shopping list to discover this wonderful supermarket!
Gameplay
Mommy Panda makes a shopping list for this hot summer vacation that need to buy in the supermarket: ice-cold drinks, watermelon, birthday cake, funny toys, candies, fishes and more! Go and help Baby Panda take a shopping car and go to the supermarket to find products that Mommy Panda added to his shopping list!
Game features
1. Have a try on various cosmetics: lipstick, eye shadow and more!
2. Help Mommy Panda and Kiki to do shopping, and get a lucky draw for surprising prize!
3. Play and have fun with different animals and colorful scenarios!
Editor's recommendation:
Welcome to the biggest supermarket in the Panda Town! Kiki and Mommy Panda have to do the supermarket shopping today! Play together with friends and family, and help your favorite panda to do shopping in the Baby Panda's Supermarket! Have a good time!