Ice Cream Inc. Game Walkthrough Level 1-50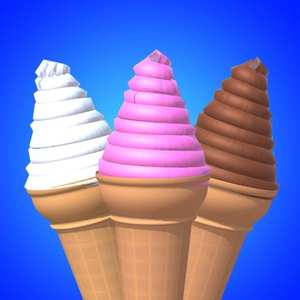 We provide guides, tips, tricks and tutorial of Ice Cream Inc., video walkthrough of how to get three stars of each level, Solutions, Answers, Walkthrough, and Cheats of Ice Cream Inc., enjoy!
Ice Cream Inc.
is a popular game published on Android Google Play And IOS APP Store.
Ice Cream Inc is a simulated casual ice cream game. The player runs a company that makes ice cream. The tastes of customers are strange. You have to satisfy them and become the first ice cream company in the world. Use a variety of tools and materials to make a variety of desserts, you can combine different flavors of ice cream to upgrade and taste new flavors, and constantly unlock more delicious desserts, use your imagination and creativity, various appearances And flavor ice cream is waiting for you to make, meet the tastes of different customers, and become an excellent dessert master.
Ice Cream Inc game features:
In your sweet little ice cream truck, can be customized with wallpaper to dress up your ice cream store.
Ice cream menu with up to 40 different flavors to collect, unlock more tools and make ice cream of various flavors.
Tap the vending machine at the bottom of the screen to combine delicious ice cream with a crazy look for a purely satisfying experience.
Ice Cream Inc players can make and collect various flavors of ice cream in the game, unlock different tools, which can be used to kill the time.
Hi, we are devoted to provide the newest walkthrough, tip, cheat, tutorial of different games.
This is the walkthrough of the classic game Ice Cream Inc.!
Ice Cream Inc. Level 1-5-10-15-20-25-30-35-40-45-50 Walkthrough played by topgames.com.
If you enjoyed the video game and want to see more Ice Cream Inc. Walkthrough videos, leave a Like, we will present by topgames.com soon.

100%