-advertisement-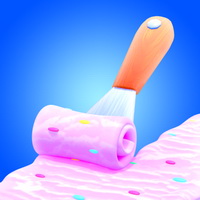 Ice Cream Roll
From
: May-17th-2020
Google Play Developer
:
Lucky Kat Studios
Apple Store Developer
:
Lucky Kat Studios
Tags
:
Casual Games
,
IOS Games
,
Android Games
,
Food Games
,
Simulation Games
,
3D Games
,
Highscore Games
,
Kids Games
,
Collect Games
,
Matching Games
Ice Cream Roll is a simulation game that allows players to see the picture and the whole person is refreshing. We must have seen fried yogurt in real life. Various fresh fruits are added to yogurt and fried on the refrigerator , Interesting magical production method, let us also want to get started and experience, this game can meet the wishes of the majority of players.
Game features:
1. One finger is enough to complete all operations, here you will become a yogurt master, making various ice creams to complete amazing challenges.
2. Exquisite graphic design will produce amazing animation effects, which are exactly the same as the physical effects in reality, and have a great production process.
3. Very decompression and leisure. When you make ice cream in the game, you will feel very relaxed and your mood will become very beautiful.
Game highlights:
1. It is a gourmet simulation game where players can make very delicious ice cream rolls by themselves.
2. We may not have eaten it, but we must have seen it in various videos.
3. More and more challenging levels. As the difficulty increases, you will find more new types of ice cream that look very delicious.
Editor recommends:
Pour the yoghurt on the refrigerator and freeze the yoghurt. The most important point is that you roll the yoghurt into a roll and put it in a box, and match it with delicious ingredients to make your fried yoghurt unique. The game operation is simple. It's fun to play. Various dishes can be made by you. Delicious fried yogurt is waiting for you here. Let's use your creativity.