-advertisement-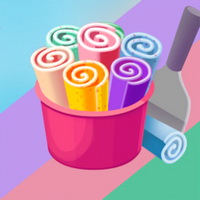 Ice Creamz Roll
From
: May-31st-2020
Google Play Developer
:
HarmonyBit
Apple Store Developer
:
HarmonyBit
Tags
:
Casual Games
,
IOS Games
,
Android Games
,
Food Games
,
Simulation Games
,
3D Games
,
Collect Games
,
Matching Games
Ice Creamz Roll is a very fun casual game, the screen design of this game is very simple and clear, and there are many competitive gameplay in Ice Creamz Roll game, it will be very interesting to play, here There are many scenarios where you can choose to challenge, and there are many tasks to be distributed every day.
Game highlights
1. Multiple gameplays set in the game but each gameplay is very simple
2. You can also unlock various ingredients and decorations to make your ice cream more delicious.
3. There are many levels in the game waiting for players to come and experience
Game description
1. There are a lot of gameplay in the game, each gameplay has detailed rules to explain at the beginning
2. Players can loot players who are smaller than themselves in the competition to make themselves bigger
3. Complete each task in different scenarios to bring you the most exciting game experience.
Game features
1. Rich colors and colorful colors, exquisite graphics display to give players a better visual experience.
2. More flavors and rich fresh ingredients are waiting for you to unlock, so that your customers have more choices.
3. From delicious fruits to delicious chocolates, various ingredients make the taste more wonderful.