Garden Game for Kids By Bubadu Android Gameplay HD Video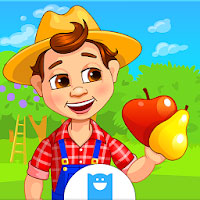 We provide guides, tips, tricks and tutorial of Garden Game for Kids, video walkthrough of how to get three stars of each level, Solutions, Answers, Walkthrough, and Cheats of Garden Game for Kids, enjoy!
Garden Game for Kids
is a popular game published on Android Google Play And IOS APP Store.
Game highlights
1. Fun activities for kids.
2. 5 different garden sections with many tools.
3. More than 20 sorts of veggies, fruits and flowers.
Gameplay
Combine business with pleasure and train your gardening skills in different sections of your garden: Vegetable Garden, Flower Shop, Greenhouse, Orchard and Garden Shed. Trade fresh goods and garden tools with customers at the marketplace and take good care of your garden.
Game features
1. Various tasks like harvesting, digging, watering, seeding, fertilizing.
2. Funny sounds and beautiful graphics.
3. Earning coins to unlock stickers to beautify the farm.
Editor's recommendation:
Spring has finally sprung! It's time to enjoy the flowers, vegetables and fruits. So go out and plant your favorite crops in the garden! Organizing a garden shed is always the most fun job! Help the kids find all the garden tools in your messy garden shed! Enjoy beautifying your farm with stickers. Earn as many coins as possible in mini games to unlock stickers in your Farm. All the stickers are interactive with funny animations and sounds. Gardener needs your help to run his cute little garden, quickly!
Hi, we are devoted to provide the newest walkthrough, tip, cheat, tutorial of different games.
This is the walkthrough of the classic game Garden Game for Kids!
Garden Game for Kids By Bubadu Android Gameplay HD Video Walkthrough played by topgames.com.
If you enjoyed the video game and want to see more Garden Game for Kids! Walkthrough videos, leave a Like, we will present by topgames.com soon.

100%