-advertisement-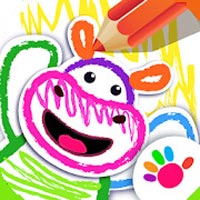 Play Online
Toddler coloring apps for kids!
From
: November-5th-2020
Google Play Developer
:
Bini Bambini
Tags
:
Board Games
,
Android Games
,
Educational Games
,
Kids Games
,
Animal Games
,
Coloring Games
Game highlights
1. Draw and guess 30 funny animals for kids.
2. Drawing games for kids.
3. More than 100 funny animations and sounds.
Gameplay
Draw all the colorful animals step by step. Painting for kids will be the best pastime! Watch as a drawn crocodile comes to life and dances to rock-and-roll, or a fox performs a salsa dance in our toddler coloring pages.
Game features
1. Drawing for children through contour tracing.
2. 30 best dance songs.
3. A simple interface intuitively clear for toddler drawing.
Editor's recommendation:
Enjoy our awesome kids coloring apps for toddler! These games for 3-5 year olds will help your child to draw cute characters! Try our toddler coloring pages and you'll see animals that comes to life! Press the buttons and guide the steps of a hippo, kitty-cat or one of the many other characters. Create a unique dance for each of funny dancing animals for kids. Speed it up or slow it down. Mix and combine the different actions in our toddler coloring book!