-advertisement-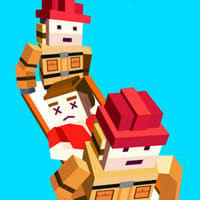 Rescue Road- Crazy Rescue Play
From
: February-16th-2020
Google Play Developer
:
F.I.L Games
Apple Store Developer
:
MarkApp Co. Ltd
Tags
:
Puzzle Games
,
Helicopter Games
,
Playcanvas Games
,
IOS Games
,
Android Games
,
Pixel Games
,
Adventure Games
,
Kids Games
Rescue Road is a very interesting level-breaking game. This game has a lot of rich level content. The gameplay is very simple. You only need to draw a line with your finger to help your friends get rescued. There are many exciting levels in the game. You can fully experience the charm of this game. Players can also choose the helicopter style they like in the game. Interested friends come and download it.
Rescue Road Games Features:
Nice and soothing background music, various special effects sounds of the game, it is very exciting to play.
The simple game style, simple and bright colors make the picture look very good.
Each time the rescue is successful, the player will get a lot of points, which can be used to redeem rewards.
The operation is very simple, and the rescue helicopter can reach the position accurately by sliding the screen.
The operation of drawing the path is also simple, smooth and comfortable, and very accurate.
Many game props, a variety of different usage methods, and a lot of mind-set settings.