-advertisement-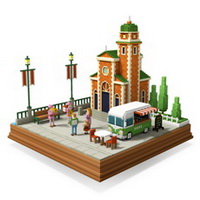 Puzzrama
From
: October-31st-2019
Google Play Developer
:
Translimit, Inc
Apple Store Developer
:
Translimit, Inc
Tags
:
Puzzle Games
,
Casual Games
,
IOS Games
,
Android Games
,
3D Games
,
Pixel Games
,
Kids Games
,
Collect Games
,
Matching Games
Puzzrama is a pixel puzzle game where players can freely spell out the patterns based on the outline information given by the game to create your own pixel world. Puzzrama has a rich material pattern that can be processed on the original basis or free DIY from scratch. This time brings the Puzzrama puzzle creation game, friends who like the fun pattern stitching game may wish to try it!
Puzzrama Game Features
The game's picture is very fresh, and it also creates a lot of scenes for you to better design ideas.
Constantly collect materials and models, use these things to design and create some perfect works, and seek happiness from constant creation.
Splicing those materials and models, then coloring the engraving yourself, all the steps are done by you alone.
When you create a new and perfect work, you can take your work to the market for sale and exchange it for gold coins.
You can use your own gold coins to go to the mall to buy more good-looking pigments and some of the models and materials you need to create more works.
In addition to going to the market to sell and display, players can also make their own creations to participate in various competitions to compete for better rankings.
Puzzrama Supported 18 languages
English/Japanese/Korean/Simplified Chinese/Traditional Chinese/Spanish/French/German/Italian/Portuguese(Brazil)/Indonesian/Hindi/Vietnamese/Swedish/Thai/Russian/Dutch/Arabic.
A jigsaw puzzle creation game that allows you to inspire the potential of creation. Maybe you didn't know that your creative talent is so strong. This game allows you to recognize your creativity and also lets you play happily and have a strong sense of accomplishment.