-advertisement-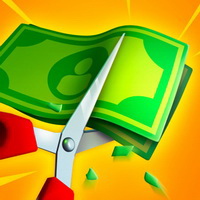 Money Buster!
From
: June-14th-2020
Apple Store Developer
:
Alictus
Tags
:
Casual Games
,
IOS Games
,
Simulation Games
,
3D Games
,
Arcade Games
,
Matching Games
Money Buster is a very interesting casual game that uses a magnifying glass and laser pointer to help you find those counterfeit banknotes, and then you can destroy it in various ways. This requires you to carefully look at each part, and you must not miss any one. Some counterfeit banknotes have almost reached the point of being fake. If you do not check them out, it will cause great harm. Very interesting gameplay, fun levels are waiting for you to complete.
Game features
1. Use a magnifying glass and various tools to detect the counterfeit money that appears, then shred the fake money to collect real money;
2. Many kinds of fake banknotes are disguised, some details will be sold out, so you have to find a way to find out;
3. Very novel gameplay, simple operation, various tools to unlock, will make the challenge easier.
Game highlights
1. If the counterfeit banknotes cannot be detected and the real banknotes are destroyed as counterfeit banknotes, then your losses will be greater;
2. So be careful, the gameplay is very casual, you can try to check the banknotes of various countries.
3. Very interesting gameplay, allowing players to learn to identify various counterfeit banknotes, as well as real banknotes as a comparison, you can test your observation.