-advertisement-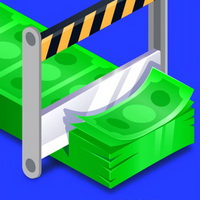 Money Maker 3D - Print Cash
From
: July-12th-2020
Apple Store Developer
:
Rollic Games
Tags
:
Casual Games
,
IOS Games
,
Simulation Games
,
3D Games
,
Arcade Games
Money Maker 3D Apple Edition is a very fun simulation casual game, experience our game more gameplay, get our own gameplay, a printer will help you print a variety of different banknotes, what you print The more money you have, the more money you will get. You can use this money to build your city and make your city more perfect with the help of this money.
Game features
1. Experience our competitive gameplay in different modes, and also attract more people to come to your city to live.
2. In this game, players only need to lightly press their fingers to have a large amount of rich cash banknotes emerging from the printing machine.
3. The game is built with 3D graphics, allowing players to have a fun visual experience in the game and show their own gameplay.
Game highlights
1. You will have rich money in this game, so you can do whatever you want here.
2. The truth becomes our rich man of countless money. In the game, we need precise operations, and there can be no mistakes.
3. The money in hand can be used to build cities and transform people's living environment so that they can have a good life experience.