-advertisement-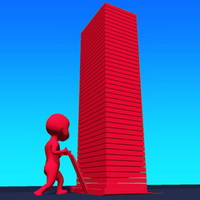 Play Online
Stack Colors
From
: May-20th-2020
Apple Store Developer
:
Voodoo
Tags
:
IOS Games
,
3D Games
,
Stickman Games
,
Arcade Games
,
Collect Games
,
Matching Games
The color of the screen is relatively bright, and the blocks of multiple colors are waiting for you to pile up. The higher the height, the higher the final score is. The duration of the special effects is also longer. The gameplay stimulates the feeling of being super real and the unique dress makes you feel a different sense of excitement.
Game features:
1. The whole operation will be seen at a glance, push the square to build the building, and keep increasing the height;
2. Fast-paced fingertip operation and cheerful background music, carefully observe the picture to avoid mistakes
3. The Q version of the screen, unique adventure experience, parkour on the same color runway.
Game introduction:
Choose your favorite character at the start, push the block forward, and carefully observe the path that appears in front of you. There are three colors on it. You need to quickly identify the line with the same color as you. Quickly pass to increase the entire height. Traps appear, especially the change of color, which makes you feel unpredictable, so watch carefully and concentrate when playing games.
Editor recommends:
Simple fingertip operation, the way to get started is relatively simple, you can also PK with your friends, compete for ranking to obtain honor, share the high-pass score to the circle of friends, let your joy enjoy with your comrades.