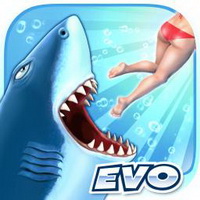 Hungry Shark Evolution
From
: April-1st-2019
Google Play Developer
:
Ubisoft Entertainment
Apple Store Developer
:
Ubisoft Entertainment
Tags
:
IOS Games
,
Android Games
,
3D Games
,
Water Games
,
Animal Games
,
Collect Games
The Description of Hungry Shark Evolution
: Hungry Shark Evolution is a shark-themed adventure game. In this world of the jungle, what you need is to constantly make yourself stronger. Try this shark game and you will know. At some level, the game can be understood as a game of eating small fish with big fish, but in this game, human beings are also part of the food chain and the favorite food of sharks. Watch out for shark hunters in the water and on the land, your sharks may become their plate meals at any time!