-advertisement-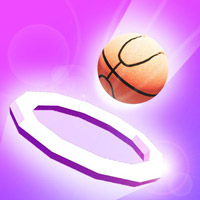 Play Online
Dunk Fall
From
: August-6th-2020
Google Play Developer
:
FluffyFoxGames
Tags
:
Avoid Games
,
Android Games
,
Basketball Games
,
Goal Games
,
Arcade Games
,
Kids Games
,
Skill Games
,
Collect Games
Game highlights
1. A fresh game in which you have to shoot hoops
2. Insanely addictive basketball game
3.Endless trial with basketball hoops.
Gameplay
This is a simple and interesting game. Basketball can only pass through the basket, so drag the ball to ensure that the ball passes through the basket. You will get a scoring bonus by continuously hollowing through the basket, which will allow you to get higher scores. Come and experience this endless dunk journey.
Game features
1. Ready to start the next launch.
2. Persevere and try not to touch the basket when shooting.
3. Success based on countless failures is even more valuable.
Editor's recommendation:
This is a simple game that is difficult to master. In the game, you have to shoot the basket in the game, hit accurately and get the highest score! In addition, the basketball hoop is constantly moving left and right, which increases the difficulty of the game. However, don't be afraid of difficulties, come and experience this game!Work hard and become the person with the highest score on the record list!