-advertisement-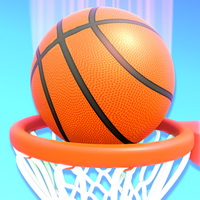 Doodle Dunk
From
: May-12th-2020
Google Play Developer
:
Lucky Kat Studios
Apple Store Developer
:
Lucky Kat Studios
Tags
:
Puzzle Games
,
IOS Games
,
Android Games
,
Basketball Games
,
Collect Games
,
Ball Games
Doodle Dunk combines basketball and graffiti, two unrelated projects, as long as you draw a line on the screen with your finger, the character will make corresponding movements, observe the position of the basket and the defender In order to pass the score within the stipulated time, the opponent will jump off and interfere with you at the moment you shoot, planning a route in your mind to achieve a fancy shooting score.
Game features:
1. When the countdown ends, the challenge will begin, and you have a few seconds to observe and think about;
2. Since there are many balls prepared for you, there is no need to wait, the first one will be thrown immediately at the moment of throwing out;
3. The opponent's actions are unpredictable, you only have to do your best to avoid mistakes.
Game highlights:
1. The gameplay is actually not difficult. See if you can use your imagination to play tricks;
2. The ability to use gold coins to develop characters will also have advantages in confrontation;
3. For those who are proficient in basketball, it is simpler, and the physical effect is very real.