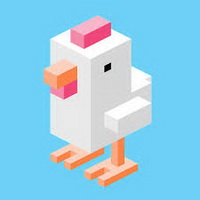 Crossy Road
From
: March-20th-2019
Google Play Developer
:
HIPSTER WHALE
Apple Store Developer
:
HIPSTER WHALE
Tags
:
Car Games
,
Avoid Games
,
IOS Games
,
Android Games
,
3D Games
,
Pixel Games
,
Reaction Games
The Description of Crossy Road
: This a simple, pure, innovative game. You should help the chicken crossroads, train tracks, and rivers – endlessly hop forever. There are over 150 retro-styled, pop art inspired characters in the game. Why did the Chicken cross the road? Why did the Pigeon leave THAT there? Why did Specimen 115 abduct that cow? Why did Unihorse eat all that candy? Just start playing and have fun!