-advertisement-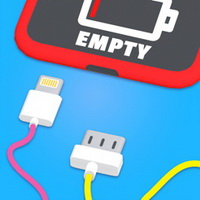 Connect a Plug
From
: May-24th-2020
Apple Store Developer
:
FTY LLC.
Tags
:
Puzzle Games
,
Logic Games
,
IOS Games
,
Physics Games
,
3D Games
,
Arcade Games
Connect a Plug is a charging simulation game. In the game, players need to plug all the chargers on the online board, successfully charge the phone and complete the level. One finger fully charges all mobile phones to complete the charging challenge. The game screen is cartoony and interesting. Players can easily answer it with one hand. You need to find a way to connect the power smoothly. Come and try it with your favorite friends, you will like it.
Game features
1. Come and rescue this mobile phone that is about to run out of power and shut down, let it charge successfully, and let your mobile phone last for another time;
2. Start the happiest stimulation challenge here, and carry out your fun challenge again and again;
3. Fully charge all the mobile phones, you can quickly get more coins.
Gameplay
Drag and drop the original graphics during the game, and complete the complex target graphics clearance through the combination of points and lines.
In general, it is a very good game, not only to exercise people's patience, but also exercise their eyesight and brain's thinking ability.