-advertisement-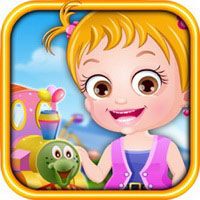 Play Online
Baby Hazel Carnival Fair
From
: November-21st-2019
Apple Store Developer
:
Axis Entertainment
Tags
:
Casual Games
,
Time Games
,
IOS Games
,
Story Games
,
Educational Games
,
Kids Games
,
Cute Games
,
Role Playing Games
,
Girl Games
,
Baby Hazel Games
Grandpa arranged a trip for Baby Hazel and Matt to the Carnival Fair. To visit the funfair, let's join the kids. First of all, get Hazel ready by dressing her up in costumes and accessories that look good. Then feed hearty food from Hazel and Matt. Finally, join the siblings and grandpa to enjoy the Fair's many fun-filled games and activities.
Get Hazel ready for day out
Yeah! Grandpa takes a day out with Hazel and Matt to attend the Carnival Fair. Wake up Hazel and brace her for the trip quickly.
Feed food to Hazel and Mattt
Superb! It's ready for Hazel and Matt. Now help grandpa feed the delicious food of Matt and Hazel. Complete the siblings ' needs and give them whatever they request.
Keep Matt and Hazel entertained
Hurray, hurray! Hazel has reached the Carnival Fair together with grandpa and Matt. Grandpa has to buy tickets at the ticket counter. In the meantime, can you be with the siblings and meet their needs?
Enjoy fun-filled games and activities with Hazel
It is time to visit the Fair of Carnival! Join Hazel, Matt and grandpa to enjoy the ride of toy train and other fun-filled activities. Play fun games to enjoy like Kiddies Striker, Water Gun and much more.