Stretch Guy - Gameplay Walkthrough Part 1 (Android & iOS)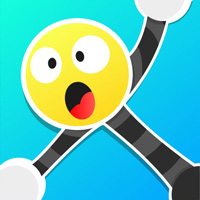 We provide guides, tips, tricks and tutorial of Stretch Guy, video walkthrough of how to get three stars of each level, Solutions, Answers, Walkthrough, and Cheats of Stretch Guy, enjoy!
Stretch Guy
is a popular game published on Android Google Play And IOS APP Store.
Game highlights
1. Cartoon style, humorous and funny atmosphere.
2. Physical rules and restrictions make you like the game more.
3. More unexpected level settings.
Gameplay
Just tap the buttons and try to fit all the balls in the jar!
Game features
1. The cute and humorous expression changes.
2. Look for the smiley face and send the character over.
3. Don't be impatient, the length of the hands and feet of spring people is limited.
Editor's recommendation:
Avoid the obstacles and complete the levels by extending the character arms and legs.
Do not stretch him too much, or he will tear appart!
Hi, we are devoted to provide the newest walkthrough, tip, cheat, tutorial of different games.
This is the walkthrough of the classic game Stretch Guy!
Stretch Guy - Gameplay Walkthrough Part 1 (Android & iOS) Walkthrough played by topgames.com.
If you enjoyed the video game and want to see more Stretch Guy! Walkthrough videos, leave a Like, we will present by topgames.com soon.

100%