Meow.io (Bumper.io) - All Stages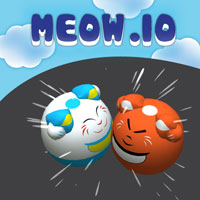 We provide guides, tips, tricks and tutorial of Meow.io, video walkthrough of how to get three stars of each level, Solutions, Answers, Walkthrough, and Cheats of Meow.io, enjoy!
Meow.io
is a popular game published on Android Google Play And IOS APP Store.
Game highlights
1. Lovely game graphics, cute cats and small ball characters.
2. Simple operation, control the cat's moving direction and impact timing, can destroy the enemy more easily.
3. Multiplayer melee gameplay, multiplayer melee collision, it's time to show your ultimate operating skills.
Gameplay
A player has the control to move easily and a power button. When power is strong enough, use it to have powerful thrust and you can fight with bigger players than you. Make sure to use your bumper power wisely to hit the enemies and protect yourself.
Game features
1. There are 12 players and you have to push the other players out of map.
2. Once you push the player to success, you will become bigger, stronger and faster.
3. Must be the last on the map to be the winner!
Editor's recommendation:
Meow.io is a very interesting io competitive mobile game. Control your cat, engage in fierce duels with opponents in the arena, move flexibly to avoid various attacks, find the right time to knock your opponent out of the field, and successfully eliminate All opponents can win! Here players will have fun multiplayer duel, push other players out of this map, continue to grow their size, and become the final winner! Friends who like it, come and download it!
Hi, we are devoted to provide the newest walkthrough, tip, cheat, tutorial of different games.
This is the walkthrough of the classic game Meow.io!
Meow.io (Bumper.io) - All Stages Walkthrough played by topgames.com.
If you enjoyed the video game and want to see more Meow.io! Walkthrough videos, leave a Like, we will present by topgames.com soon.

100%