-advertisement-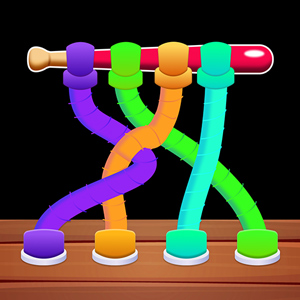 Tangle Master 3D
From
: June-10th-2020
Google Play Developer
:
Rollic Games
Tags
:
Puzzle Games
,
Logic Games
,
Android Games
,
Simulation Games
,
3D Games
,
Kids Games
,
Matching Games
Tangle Master 3D game is a recently popular entangled rope game. The game screen is exquisite and three-dimensional. The 3D ropes are twisted together. According to the corresponding texture, the rope is untied. The color and number of ropes in each level may not be entangled. same.
Game introduction
Tangle Master 3D is a casual puzzle game. All players have to do is to untie all the entangled ropes and use your imagination to get through the levels and get more rewards.
Many levels have different levels of difficulty, and different winding methods may make you very irritable, but you can definitely calm down and try it out!
Game features
The difficulty of various levels can be adjusted to try more challenging forms.
At the most direct moment of interaction, you can enjoy the operation of many different types of items, and the playability is improved.
Very meticulous portrayal of the scene, you can find the best and easy to play, a lot of fun.
Under different scenes, you can find the most relaxing moment of operation and feel the relaxing entertainment.
Suitable for passing time, not too difficult, just click and drag with your finger to easily complete the operation;
It allows players to find a very comfortable and exclusive operation moment and enjoy the most direct interaction mode.
Can complete the most difficult technical operation in the most outstanding way, the most relaxed and complete entertainment, free to play.
As the level increases, you will face more and more difficult levels, but don't worry, there is no punishment mechanism;
The operation is also very easy to complete the action, you can enjoy the most relaxing game experience.
Help people improve their wisdom. In the process of breaking through obstacles, your brain will run fast and come up with the best way.
Editor recommended
Tangle Master 3D requires players to constantly exercise their brain power and make reasonable inferences following the level, and the difficulty factor will continue to increase. It still depends on the player's own strength.