-advertisement-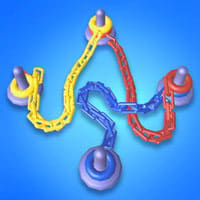 Play Online
Go Knots 3D
From
: April-8th-2020
Apple Store Developer
:
Rollic Games
Tags
:
Puzzle Games
,
Logic Games
,
IOS Games
,
Simulation Games
,
3D Games
,
Kids Games
,
Skill Games
,
Matching Games
Go Knots 3D is a 3D-shaped unlocking game. The two ends of each chain of the game are ring-shaped and set on the base in the scene. Players need to move through various movements to unlock the complex chain and let all Both ends of the chain are set on a base.
Go Knots 3D Game Features:
The gameplay is very novel and belongs to a puzzle-solving game that requires logic to solve. All games are still very brain-burning.
The difficulty of the level is getting harder and harder, not only the color of the chain is more and more, but also the connection method is more and more complicated. Unlocking becomes more difficult.
The chain in the game can not leave the base, and in the end, each base can only have one ring at both ends of the chain, which makes the game more difficult.
Although the gameplay looks very novel, the game is actually a variant of the classic logic game, players can exercise their brainpower in the game, let themselves logical thinking is more flexible and meticulous, the game has a lot of levels, and new challenges are updated every day. The game also challenges the level for a limited time. The gameplay is entertaining and fun to play it.