-advertisement-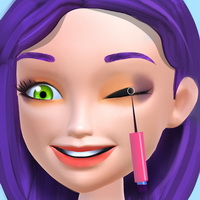 Play Online
Super Salon
From
: May-5th-2020
Google Play Developer
:
Lion Studios
Apple Store Developer
:
Lion Studios
Tags
:
Fashion Games
,
IOS Games
,
Android Games
,
Girl Games
,
Make up Games
Super Salon is a makeup salon with unlimited creativity. As the manager, you need to design a perfect makeup for each guest to make them feel satisfied. The game is full of joy, learn various makeup techniques, and cover up the defects on your face. To magnify the advantages of guests and make them look new. The superb makeup technology makes your salon shop full of traffic and come and go to receive more guests.
How to play Super Salon:
1. It is your job to make your customers satisfied. The game tests your patience and masters the use of different makeup tools;
2. The operation is very simple, test your makeup technology and aesthetics, and design for different guests' skin color and clothing;
3. Make-up like magic, the difference between before and after makeup is very big, makes people feel shocked, easy to use gameplay, come and try it.
Super Salon highlights:
1. Every detail must be in place. Make a spa before makeup to make guests feel comfortable and design different makeup according to different styles;
2. Unlock more high-end cosmetics, carefully observe each guest, meet their needs, and design exquisite makeup for them;
3. Free to play, without any rules and standard answers, and keep practicing here to master more makeup tips.
Editor recommends:
It's super easy to play, and you can learn about various tools and familiarize yourself with the functions of these cosmetics before you can use them better.
Communicate with your customers a lot and understand their needs, so that you can design a makeup that suits your needs.