-advertisement-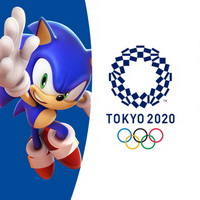 SONIC AT THE OLYMPIC GAMES
From
: May-10th-2020
Google Play Developer
:
SEGA
Apple Store Developer
:
SEGA
Tags
:
Swimming Games
,
Tennis Games
,
Soccer Games
,
Clicker Games
,
IOS Games
,
Android Games
,
Basketball Games
,
Ball Games
,
Sport Games
SONIC AT THE OLYMPIC GAMES is a new official official authorized game of 2020 Tokyo Olympic Games by Sega. The game screens are colorful. In the game, you will experience the unlimited fun of the Olympic Games in an all-round way. The gameplay is rich, and there are many kinds of sports. There are many modes of sports, players can choose according to their own preferences, using the Q version style, many familiar cartoon characters are introduced one by one.
Game features:
1. Including track and field, swimming, badminton, shot put, basketball, volleyball, football, table tennis, etc., dozens of these familiar Olympic games are included in the game content;
2. Combining the famous characters of SEGA and Nintendo, Mario, Sonic, and Kuba will all appear in the game, giving everyone classic memories;
3. The game combines the cartoon Q version style and the real style of painting, so that the real characters can appear in the same game as the cartoon characters, and have a great visual effect.
game introduction:
Sega also officially announced on March 30: From summer 2019 to 2020, it will launch four officially licensed games for the 2020 Tokyo Olympics, and its landing platforms include PS4, NS and mobile phones;
Officially authorized games for the 2020 Tokyo Olympic Games, Mario and Sonic Tokyo Olympic Games, Mario and Sonic Tokyo Olympics Arcade Edition, and Sonic Olympic Games Tokyo 2020 and other games;
Authorized Nintendo and SEGA to launch games covering almost all home console platforms, including switch, PS4, Android, IOS, players can play with Mario and Sonic.
Editor recommends:
With a huge amount of gameplay, there are a lot of Olympic sports events here, and they have already achieved a certain degree of completion. The cartoon characters you are familiar with appear one by one;
The latest series of popular series of games that Mario and Sonic have joined hands can enjoy the unlimited fun of Olympic competitions such as hitting, running, and jumping anytime, anywhere.