-advertisement-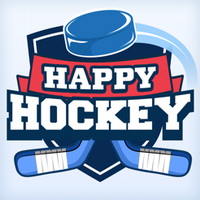 Play Online
Happy Hockey
From
: May-14th-2020
Google Play Developer
:
Gismart
Apple Store Developer
:
Gismart
Tags
:
Action Games
,
Soccer Games
,
IOS Games
,
Android Games
,
Kids Games
,
Ball Games
,
Sport Games
Happy Hockey is a hockey-themed cartoon casual game on Douyin. Players only need to hit the goal to score the goal, the game screen is simple and fresh, the operation is simple, and the difficulty is also gradual.
Game introduction:
Are you ready to enjoy the happy time on the ice rink? Welcome to Happy Ice Hockey !, this is an action puzzle game about ice hockey, guaranteed to make you full of blood and completely free! Bring your club and set foot on ice Face, aim for the goal! This is the long-awaited competitive game!
Gameplay:
Happy ice hockey is simple and fun. All you have to do is aim for the ice hockey, swing the ball, and then shoot to score! However, you have to avoid the hordes of opponents, bypass the weird obstacles, and of course shake the goalkeeper. The dust on the roller skates rushed to the ice court to start practicing. Happy ice hockey is a game that requires skill control and will test your thinking ability and ice hockey skills. Thank goodness, the happy ice hockey game experience is perfect, as long as you have the talent to score, the precise action design and smooth operation in the game ensure that the ice hockey easily passes through the goal post!
Game instructions:
As you continue to upgrade in the game, you will encounter countless levels, each of which is carefully rendered with 3D technology! Moreover, each level will prevent you from scoring goals with new challenges, new obstacles, and various crazy behaviors. In the end, scoring is the fundamental goal, and here, you have to complete thousands of goals.
Editor recommended:
Are you tired of boring sports games? Happy ice hockey is finally here, it's as cool and cool as the ice you skated on! Bring your cue, hit the ice hockey, and get ready to score! Because of the joy Ice hockey can't wait to occupy your leisure time!