-advertisement-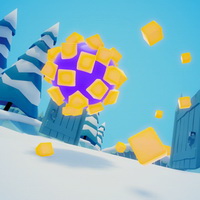 Play Online
Rolly Hill
From
: May-10th-2020
Google Play Developer
:
tapease
Apple Store Developer
:
Bidease Inc.
Tags
:
Avoid Games
,
Casual Games
,
IOS Games
,
Android Games
,
Kids Games
,
Ball Games
Rolly Hill is a casual challenge game with the theme of classic cubes. Players need to use the rolling balls to absorb various three-dimensional cubes to form larger balls. The gameplay is relatively simple, but it is very interesting. During the rolling process At the same time, be careful of various obstacles, and don't let the blocks scattered out.
Although the game looks simple, it is still very difficult to operate. You need to have a high reaction ability and speed, and when the ball is about to hit an obstacle, you need to stop it in time, otherwise the ball will spread out and absorb Will also disappear.
Game features:
1. Although the gameplay is simple, it is a bit difficult to challenge.
2. The game extremely tests the player's reaction ability and hand speed.
3. Help the ball absorb more blocks and overcome obstacles to reach the end.
Game highlights:
Super high difficulty setting plus different challenge levels, so that you can enjoy the fun of constantly surpassing yourself;
Wonderful gameplay settings bring a more interesting adventure experience, exquisite color presentation gives you the best visual experience;
While scrolling fast, do n't forget to always pay attention to the obstacles on the way to avoid the collision and the failure of the challenge.
Editor recommended:
Easy puzzle game mode, diversified level design, more than 100+ challenge levels, super many levels are waiting for you to play;
Simple operation mode, one-key sliding control to avoid, and many booster props to help you easily complete the challenge.