-advertisement-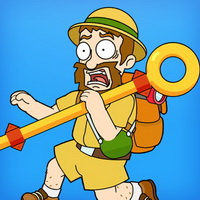 Pull Him Out
From
: June-14th-2020
Google Play Developer
:
Lion Studios
Apple Store Developer
:
Lion Studios
Tags
:
Mission Games
,
Logic Games
,
IOS Games
,
Android Games
,
Platform Games
,
Physics Games
,
Kids Games
Pull Him Out is a fun casual level game that is very good to play. Exquisite game screen, easy and simple finger click gameplay, the whole game is still very unique to play, rich fun operation content, excellent game experience And rich level settings.
game introduction
The hunter began his treasure hunt, but the mystery in front of the hunter trapped him. What you need to do is draw the stick in the correct order so that the hunter can safely take away the hidden treasure.
Game features
1. Use a clever way to complete the push of the needle, keep your fingers moving flexibly;
2. The change of the sequence of pulling needles for each level will be very critical, do not reverse the order;
3. All difficulty levels will be gradually increased to unlock new difficulty levels in different scenarios.
Game highlights
1. Free to play, anytime, anywhere, players can play for free for a long time
2. Suitable for all ages. The game covers a wide range of ages, players can experience
3. Use your brain to solve puzzles, the game will encounter brain use, players need to think
4. There is no time limit, enjoy yourself, players randomly arrange the time
Editor recommended
Generally speaking, it is a fun and casual game with a very interesting gameplay. The operation mode of the game is still very unique. With the support of the plot, the integrity and consistency of the entire game are still very good. Rich game Fun can also bring more unique content.