-advertisement-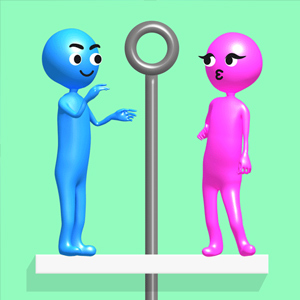 Play Online
Love Pins
From
: June-3rd-2020
Apple Store Developer
:
Supersonic Studios LTD
Tags
:
Puzzle Games
,
Mission Games
,
Love Games
,
Logic Games
,
IOS Games
,
Platform Games
,
Physics Games
,
Kids Games
Love Pins is a very interesting escape game, turn the pins in these organs, pull them out or put them in, try to find two different spaces to become one, and let the two separated couples go to Together, the moment of witnessing love comes, and you are the God who controls the magic of love, come here to let the lovers come together finally!
Game features:
1. There will be some fierce beasts in the cage, you can't let them kill each other, let alone the rubber man eaten by the fierce beasts;
2. Each level will have different ways to clear customs, but only one is the most reasonable and effective way to pass the level;
3. The shorter the time spent, the higher the final score will be. Quickly turn your head around to figure out the easiest way.
Game highlights:
1. The rules are still relatively strict. You can't try unlimited times, the number of times to turn the pin is limited;
2. No props can be used, you can only rely on your own mind to test everyone's IQ.
Game Reviews:
1. It has a reminder function, but it can only be used three times a day, which can help you solve some levels that cannot pass;
2. There is no advertisement. This is just a conscience. For the first time, I saw that there is no built-in advertisement in this small game.