-advertisement-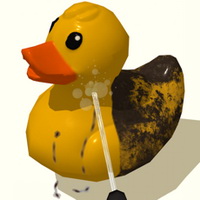 Play Online
Pressure Washer: Squeaky Clean
From
: February-18th-2020
Google Play Developer
:
Lion Studios
Apple Store Developer
:
Lion Studios
Tags
:
Casual Games
,
IOS Games
,
Android Games
,
Simulation Games
,
3D Games
,
Water Games
,
Arcade Games
,
Kids Games
How is your OCD? Clean up the mess to feel total satisfaction! Hate to see filthy items? Ever wanted to spray a hose down on something! Today hundreds of dirty objects can be washed away to reveal their sparkling existence. Watch the objects rotate by themselves. Your job is to swipe them away for washing. It is so easy! Cleaning was never more funny! Stay ready to feel the joy of seeing your artifacts lose their grimness! Relax and wash, and hose the mess down. Pick up fun and easy but don't miss a spot ... Will you be the first to cleanse all of them? Scratch that OCD itch and free-clean it all! The end results will make you feel happy!
Pressure Washer Games Features:
Simple but addicting mechanics - No need for anxiety? The objects rotate for you. All you need to do is swipe and clean. Take your time and relax, it's the simple.
Run your own Power Washer - Keep spraying away. Whether it's dirty, rusty, or grimey, there are so many objects for you to wash.
Keep them coming - Challenging objects will test your skills. Can you clean all the spots?
Feel the experience - Feel the reveal with the most satisfying haptics experience there is.
Never again be afraid of dirty objects! Pressure washing machine removes the OCD. This is the most addicting simulation game for cleaning that there is. Good luck putting down the Washer Pressure!