-advertisement-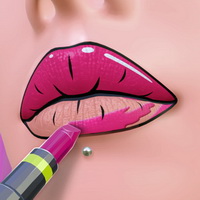 Lip Art 3D
From
: May-5th-2020
Google Play Developer
:
ZPLAY Games
Apple Store Developer
:
ZPLAY Games
Tags
:
Fashion Games
,
IOS Games
,
Android Games
,
Girl Games
Lip Art 3D is a highly playable lipstick game. First of all, you have to complete more tasks. Follow the system prompts to operate. Maybe you will fall in love with this game, not just The style of the game is attractive, and some of the gameplay can be said to be the most comprehensive at present, suitable for a large number of people, of course, children should not mix.
Game features:
1. Sometimes the game looks difficult to operate, but when you really experience the fun, you do n't think so;
2. According to different models of color to debug, how to mix, the color will look more vivid;
3. If you also want to experience the fun of applying lipstick, then this game is a very good choice.
Game tips:
You must accumulate gold coins in the game, and you will be updated with a lot of beautiful lipsticks in the future, and then you can buy them.
Some tasks and activities launched every day can be completed on time, and then to get the most abundant benefits, improve the playability of the game.
Editor recommends:
There are many ways to play, and the theme is clear. Will you apply lipstick? May you challenge it.