-advertisement-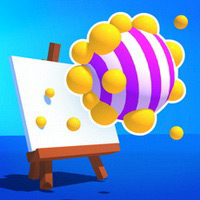 Art Ball 3D
From
: November-3rd-2019
Google Play Developer
:
Clown Games
Apple Store Developer
:
Alictus
Tags
:
Casual Games
,
Classic Games
,
IOS Games
,
Android Games
,
3D Games
,
One Button Games
,
Pixel Games
,
Ball Games
Art Ball 3D is a very fun and innovative game of casual games. With a simple finger click to slide the ball and then complete the picture on the rear canvas, there is no difficulty in the whole process, Move your finger on the screen to move your ball and glue color spheres around you. Dispatch your colors to paint beautiful artistic paintings on the canvas. But you can experience the decompression and the fun of art. Interested friends can download it quickly.
Art Ball 3D Game Features
The classic pixel-square style game screen gives a retro visual experience;
Easy and simple finger-click operation, control the ball to continuously roll to impact;
In addition to eliminating the squares, the colors and patterns on the impacted squares will adhere, completing the pattern on the canvas;
The brain is oversized and the gameplay is very simple.