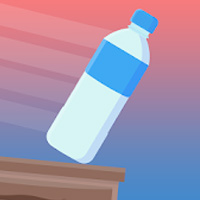 Impossible Bottle Flip
From
: March-19th-2019
Google Play Developer
:
Tastypill
Apple Store Developer
:
Tastypill
Tags
:
IOS Games
,
Android Games
,
Platform Games
,
One Button Games
,
Arcade Games
,
Kids Games
,
Skill Games
The Description of Impossible Bottle Flip
: Nobody knows when it started the bottle flip game is very popular on YouTube. Do you want to try Impossible Bottle Flip? Download and learn to try it yourself. Tap it, turn it from the head in the room to the ordinary household items, you can finish it, be careful not to fall down! There are 15 impossible levels waiting for you to conquer. With more exercises, you will soon become a bottle flip master.