-advertisement-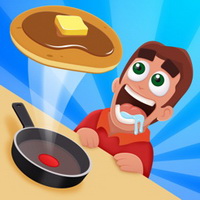 Play Online
Flippy Pancake
From
: July-9th-2020
Google Play Developer
:
Full Fat
Apple Store Developer
:
Full Fat
Tags
:
Puzzle Games
,
Launch Games
,
IOS Games
,
Android Games
,
Food Games
,
Physics Games
,
Arcade Games
The Flippy Pancake game is brought to you by Sicily. This game is also a very fun and elegant mobile game. A game about cooking. You need to take good care of the food in the pot and then flip them over and over. Oh.
Game introduction
Flippy Pancake is an agile fun game. Tap and hold to cook pancakes. When your pancakes are turned from one pan to the next, players must carefully control their strength to make your pancakes smooth. Enter the next frying pan without error! The game will continue to increase the difficulty of the game, making your challenges in the game more interesting, and you can also challenge your game skills.
Game features
1. The gameplay is very simple, just tap and hold the screen to complete the operation.
2. Very heartbreaking operation, flexible and agile operation experience, to achieve your ultimate goal.
3. Fun simulated cooking experience, familiar with the rules of the game, and constantly challenge your game skills.
Game highlights
Press and release to operate all
Get more user satisfaction
Simple operation and fun fun
Challenge more difficult levels