-advertisement-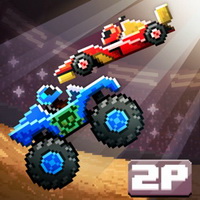 Play Online
Drive Ahead!
From
: May-20th-2020
Google Play Developer
:
Dodreams Ltd.
Apple Store Developer
:
Dodreams Ltd.
Tags
:
Action Games
,
Car Games
,
Avoid Games
,
Attack Games
,
IOS Games
,
Android Games
,
Monster Truck Games
,
Kids Games
Drive Ahead is an arena racing game. You can play Drive Ahead in four modes: use the same device or wireless network to compete with friends in a local multiplayer mode!
Drive Ahead game threshold is not very high, fun game content will make you put it down.
Game introduction
Meet the aspiring mountain biker-Newton Bill. He is about to start a new journey. Not following the laws of physics, Newton Bill did not take a rest until he conquered the highest peak of the moon!
Meet the challenges of a unique mountain climbing environment with a variety of models. Bravely try superb skills to get bonuses, collect gold coins to upgrade the car and reach higher distances. But be careful-Bill's thick neck can't handle it! His old gasoline burner can easily run out of fuel.
Game features
-A variety of vehicles with unique upgrades (various vehicles: bicycles, trucks, jeep, tanks, police cars, etc.)
-Upgraded components including engine, suspension, tires and four-wheel drive
-Multiple stages, each stage has multiple levels for you to get through (countryside, desert, roller coaster and moon! +++)
-Share scores with friends with screenshots!
-Cool graphics and smooth physical simulation
-Carefully designed to look good on low-resolution and high-resolution devices (including tablet computers)